Previous Productions: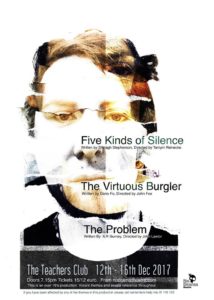 Winter One Acts:
Five Kinds of Silence
Director: Tamryn Reinecke
Assistant Director: Erin Barclay
The Virtuous Burglar
Director: John Fox
Assistant Director: Malcolm Bolton
The Problem
Director: John Lawler
Date: 12th-16th December
Venue: Club na Múinteoiri, The Teachers Club.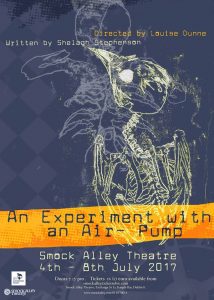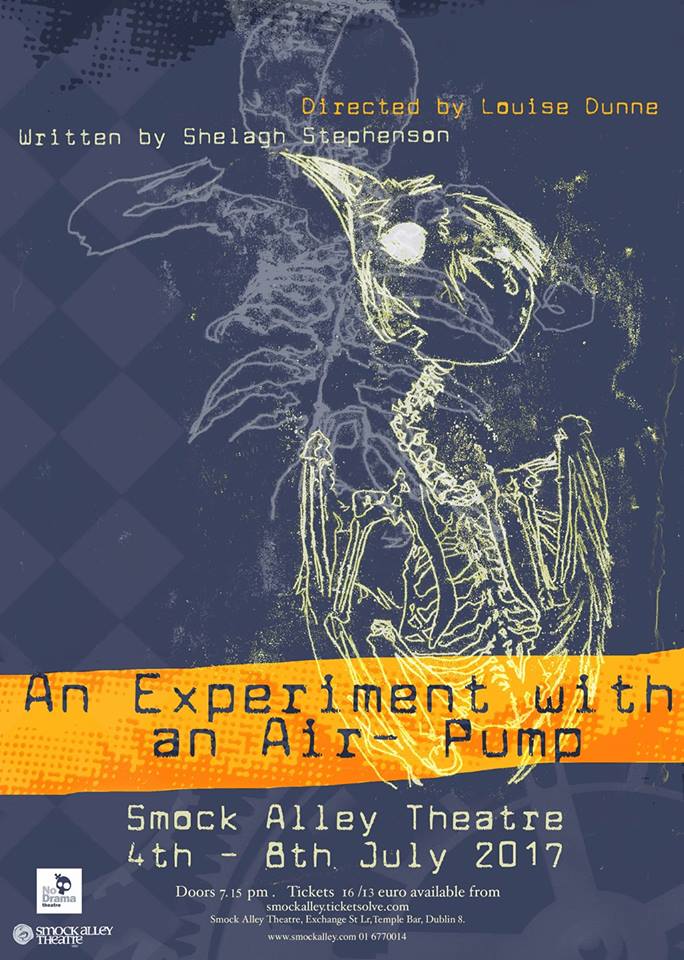 Production: An Experiment With An Air-Pump
Date: 4th-8th July
Venue: Main Space, Smock Alley
"I had smaller ambitions, I wanted to be God".
In a world where knowledge is power, how far should we go? What drives us forward and what makes us snap? Love, ambition, hope and betrayal. These are the themes explored in Shelagh Stephenson's' beautifully layered play over the span of two centuries and within the debate of Art versus Science asks us where the line is drawn in morality and ethics.
Tickets for An Experiment with an Air-Pump are on sale on the Smock Alley website
Director – Louise Dunne
Assistant Director – Adam Walsh
Cast:
Alexandra Stamati
Cathal O'Donovan
Ellen Hoban
Nikhil Dubey
Shane Robinson
Tamryn Reinecke
Tonya Swayne
Spring 2017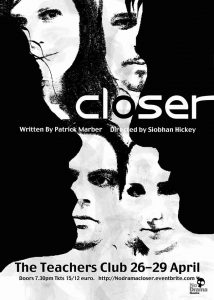 "What do you want?"
"To be loved."
"That simple?"
"It's a big want."
Five years, four lives, a million lies.
No Drama Theatre is proud to present "Closer" by Patrick Marber; a story of love and betrayal where the heart is found within the vulgarity of love affairs, rivalries and seductions.
Closer played on April 26th to 29th 2017 in The Teachers' Club.
*Adult themes and strong language throughout*
Winter 2016(…-ish)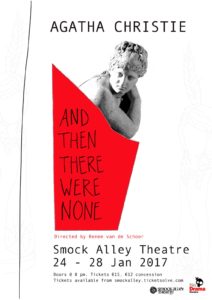 Ten strangers receive a mysterious invite to a dinner party on an isolated island.
One by one, their various sordid pasts catch up with them.
One by one, they are accused.
One by one, they meet their end.
Director
Renée van de Schoor
Assistant Director
Siobhan Hickey
Tickets for And Then There Were None are on sale on the Smock Alley website
Summer 2016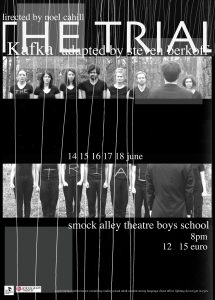 "Someone must have been lying about Joseph K, for without having done anything wrong, he was arrested."
A man wakes up and is arrested. He tries to find out why and fails. The end.
"Dearest Max, The Trial [is] to be burned unread."
Franz Kafka
"Astounding! Exciting! Life-changing! The staging is minimalist, the set-up is straightforward, the acting is totally unconventional."
Donncha MacCoil, The Paris Billet delivers his 'verdict': ★★★★★
Winter 2015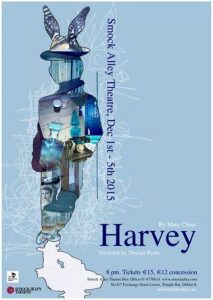 Everyone should have a best friend, someone they can spend their time with, someone they can tell their deepest darkest secrets to, someone who'll always be there for them.
For Elwood P Dowd that friend is Harvey, kind, helpful and always around to keep Elwood company, Harvey is the perfect friend … except for the fact that he is also a 6ft tall talking rabbit who happens to be invisible to everyone but Elwood.
With a sister looking to have him locked up forever in an insane asylum and a niece out for his fortune, it's up to Elwood to show the world that just because something doesn't make sense, it doesn't mean that it's not real, in this classic tale of family, love and most importantly of all, friendship.
Summer 2015
Peter King, a prominent landowner, is dying. His considerable wealth was earned by his hardness and shrewdness in breeding and training horses, but he lives in much the same way as the poor farmers he comes from. He has a twenty-year-old daughter, Maggie, from his first marriage, and his second wife, Eileen, is half his age. He expects them to work like servants, and he does not allow his money to spread ease or comfort.
His illness forces him to take on a young workman, Paul, the son of poor farmers who owe him money. Paul has a history of living at home, doing casual labour and womanizing. He is a potent mixture of good looks, sexual egotism, weakness and vanity.
Winter 2014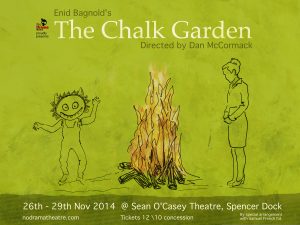 Mrs. St. Maugham, an ageing eccentric hires a governess (Ms. Madrigal) with a mysterious past to look after her disturbed teenage granddaughter (Laurel) who has driven away every other applicant by exposing them for their weakness. Ms. Madrigal takes on the task of raising Laurel into womanhood and growing life into the chalk soil garden at the risk of revealing her secret and sealing her fate. As Mrs. St. Maugham's daughter arrives to claim back her once abandoned daughter, Ms. Madrigal soon discovers that there are more secrets to be found in the Chalk Garden.
Summer 2014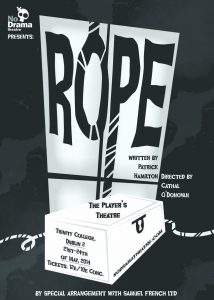 For the mere sake of adventure, danger, and the "fun of the thing", an Oxford student Brandon persuades his weak minded friend, Granillo, to assist him in the murder of a fellow undergraduate, a perfectly harmless man named Ronald Kentley. They place the body in a wooden chest, and to add spice to their handiwork, invite a few acquaintances, including the dead youth's father, to a party, the chest with its gruesome contents serving as a supper table.
Winter 2013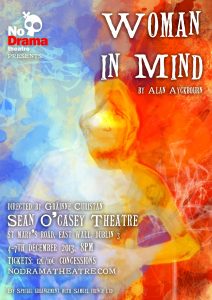 The story of a middle-aged housewife who has a gardening accident which coincides with her losing her mind, she imagines an idealised fantasy family to make up for her disappointment of her real family. These two worlds collide and get increasingly intertwined as she gets more and more confused.
Summer 2013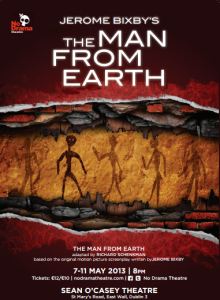 A Science fiction outing for No Drama.   John Oldman is a college professor who suddenly decides to leave town. His colleagues, puzzled by his actions pay him a visit to see if  they can find out why.  John tells them the truth  – that in face he was born 14,000 years ago and has lived through the entirety of human history…
Winter 2012
A film Noir inspired farce,  a huge ensemble cast, A cursed Diamond, A femme fetale, Cops, Organised crime, shootouts and of course a private dick.
Bill Roben's wonderful play that made it's european premiere in Dublin with No Drama.
Summer 2012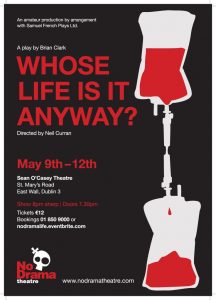 A change of pace for No Drama, Whose Life is it Anyway poses the very topical question should you be allowed to die if you cannot live a life with dignity.
You are paralysed from the waist down

No chance of ever moving again

Fed, cleaned and toileted by others

For the rest of your long life

Would you see it through?

…….Should you have the choice?
"Whose Life" had a four night run in Summer 2012.
Winter 2011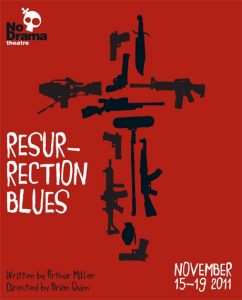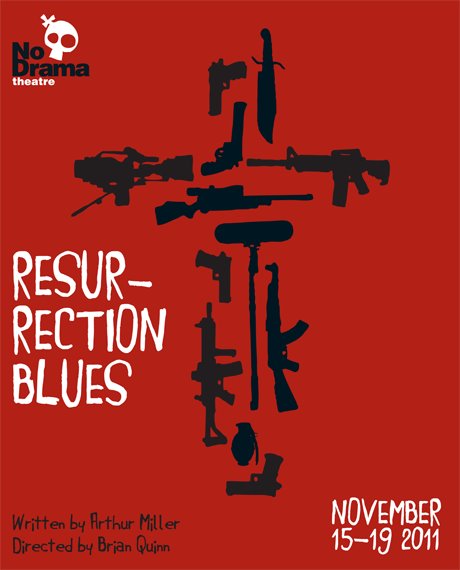 One of the lesser know Arthur Miller plays. Resurrection blues is set in a fictional south american country where the crucifixion of a revolutionary who many claim is the son of god raises questions for the military government, the American TV crew and the revolutionaries themselves.
Resurrection Blues had a four night run in Winter 2011.
Summer 2011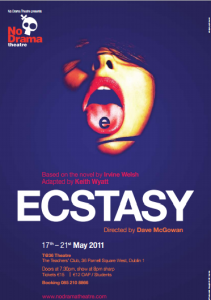 Based on the Story by Irvine Welsh, adapted by Keith Wyatt.
Directed By David McGowan assisted by David Fleming.
A Story of Drugs,Love and music set in the 90's club scene in Edinburgh
Ecstasy had a 5 night run in the teachers club in Summer 2011.
Directors blog
Winter 2010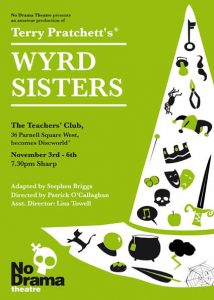 Based on the Terry Pratchett novel of the same name adapted for stage by Stephen Briggs.
A typically Pratchett take on the Shakespearian tragedies, the scottish play in particular.
Directed by Patrick O'Callaghan assisted by Lisa Towell.
Wyrd Sisters had a 4 night run in Winter 2010.
Summer 2010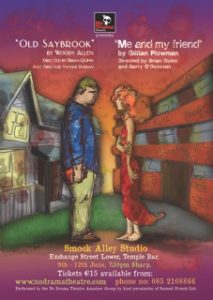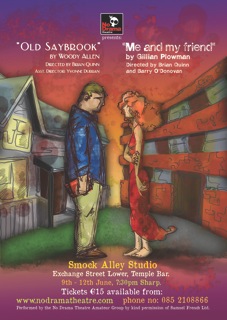 Another double bill.
Me and My Friend
A black comedy about psychiatric patients dealing with the real world and each other and the highs and lows in between.
Directed by Brian Quinn and Barry O'Donovan.
Old Saybrook
A farcical comedy written by Woody Allen about relationships and infidelity.
Directed by Brian Quinn assisted by Vonnie Durran.
Winter 2009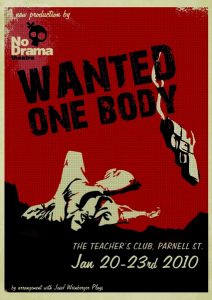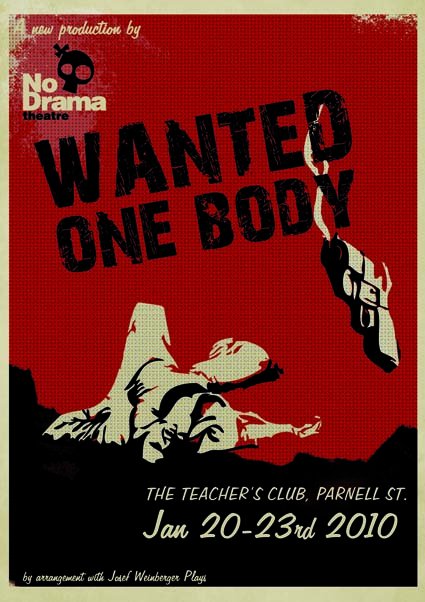 Wanted: One Body by Charles Dyer
Directed by Neil Curran and Noel Murphy. This is The first full length 3 act play undertaken by No Drama is a Murder Mystery Farce, featuring a cast of suspicious characters. The Wealthy Mr. Barraclough has passed away and the solicitors Blundell and Mickleby arrive at the house to read the will. A clause in the will granting a portion of the inheritance to the servants sets the house into turmoil. A murder occurs and Blundell
and Mickelby find themselves having to piece together the clues to find the culprit.
Summer 2009

Night At The Invasion / Tales From The Fairground
Night At The Invasion
This one act play was written and Directed by our very own artistic director Barry O'Donovan (under the pen name Dante Black) alongside Byron James. It deals with what happened in the radio studio on the night of the famous "War of the Worlds" broadcast.
Tales From The Fairground
Directed by No Drama's official mentor Brian Quinn, 'Tales' was a collection of three short pieces which afforded us the opportunity to showcase the large numbers of talented folk in No Drama.
Three Tales from the Fairground exploring relationships new, old and fleeting
Tale 1: Two people, best friends for years, meet and in a revealing ten minutes their friendship is left vulnerable and exposed
Tale 2: It's hard being an out of work actor in a dog eat dog, friend eat friend critic obsessed world
Tale 3: Two strangers meet and connect on a ferris wheel in a poignant tale of the road not taken