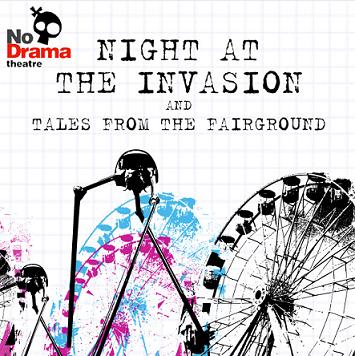 Production:
Night At The Invasion / Tales From The Fairground
Date: Summer 2009
Venue: La Catedral
Producer/Director (NATI) Barry O'Donavan
Director (TFTF) Brian Quinn
Assistant Director (NATI) Rose Geoghegan
Night At The Invasion.
This one act play was written and directed by Barry O'Donovan (under the pen name Dante Black) alongside Byron James. It deals with what happened in the radio studio on the night of the famous "War of the Worlds" broadcast.
Some of the Night At The Invasion cast onstage
Tales From The Fairground
Directed by No Drama's Brian Quinn,
Tales
was a collection of three short pieces which afforded us the opportunity to showcase the large numbers of talented folk in No Drama even in the very early days.
Two of the Tales from the Fairground cast
CAST:
DAN SCANLON as
Orson Welles
NEIL CURRAN as
Col. Richard Hazelby
SHEILA DOOLEY as
Abigail Rowntree
SHANE ROBINSON as
Mike Kincannon
DAVE McGOWAN as
Tom Skidmeyer
NOEL M. MURPHY as
Jed Stevens
KATE FEENEY as
Sarah
ANGELA CARLIN as
Gail
DEARBHLA LAWLER as
Lynette
RUAIRI DE BURCA as
Craig
GRAINNE CURISTAN as
Nat
SHIOBHAN HICKEY as
Eileen
ALAN ROGERS as
Barry
STEVEN LACY as
The Critic
MARIA DILLON as
Sammy
CLIODHNA as
The Critic's wife
ROSE GEOGHEGAN as
Patron
TOM MURPHY as
John
RACHEL BYRNE as
Dorie
CREW
Producer/Director (NATI)
BARRY O'DONAVAN
Director (TFTF)
BRIAN QUINN
Assistant Director (NATI)
ROSE GEOGHEGAN
Stage Manager
CATHERINE O'SULLIVAN
PR and Publicity
LAURA MCGOVERN and DAMIEN HOLMES
Front of House
JONATHON HUGHES, FIONA SLATTERY and NIAMH CULLEN
Props
PAUL BONNER
Stagehand
ORLA MCBRIDE and VONNIE DURRAN
Make up & Hair
ROSE GEOGHEGAN, MARIA DILLON AND RUTH CURRAN
Ticketing
RUAIRI DE BURCA