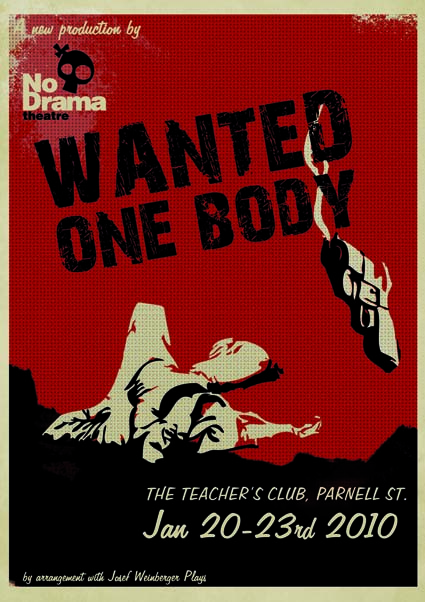 Production:
Wanted: One Body
(Charles Dyer)
Date: Jan. 2010
Venue: Teachers' Club, 36 Parnell Square West.
Directed by Neil Curran
Assistant Director: Noel Murphy
Wanted: One Body
, a murder mystery farce, featuring a cast of suspicious characters told the story of the passing of wealthy
Mr. Barraclough
and the arrival of solicitors
Blundell
and
Mickleby
at the house to read the will. A clause in the will granting a portion of the inheritance to the servants set the house into turmoil. A murder occured and
Blundell
and
Mickelby
found themselves having to piece together the clues to find the culprit.
CAST:
PATRICK O'CALLAGHAN as
Mr. Blundell
SHANE ROBINSON as
Mr. Mickleby
DAVE McGOWAN as
Dr. Brown
SARAH MALONEY as
Anne Beale
CAELIN LARGEY as
Ms. Barraclough
ALAN ROGERS as
Mr. Johnson
TRACEY DIAMOND as
Mabel Middy
LAURA McGOVERN As
Agnes the Cook
TOM MURPHY as
Mr. Sorrell
CREW:
Director
NEIL CURRAN
Assistant Director
NOEL MURPHY
Production Manager
CATHERINE O'SULLIVAN
Costume
CATHERINE O'SULLIVAN and ANGELA CARLIN
Props
RACHEL BYRNE
Stage Manager
DARRAGH BEIRNE
Assistant Stage Manager
YVONNE DURRAN
Front of house
SHEILA DOOLEY, DEARBHLA LAWLER, KATE FEENEY and JOHNATHON HUGHES
Set Design
DARRAGH BEIRNE
Set Decor
LISA McSHARRY
Lighting
DARRAGH BEIRNE
Sound
BARRY O'DONOVAN
Hair and Makeup
MARIA DILLON, ROSE GEOGHEGAN and LOUISE HALL
Stage Hands & Construction
BRIAN QUINN, PAUL BONNER and RUAIRI DE BURCA
Graphic Design
GRAINNE O'SULLIVAN