The rain hammers down. Parts of the puzzle are starting to slot into place, but are the clues all they seem? The pieces are moving on the board, but is everyone playing the same game? Somebody is dead, stabbed through the heart. Somebody is running from the law, looking for a saviour. Somebody is out for revenge, relentlessly tracking their prey. Somebody doesn't see why this couldn't all wait till the morning. But Frank O'Hara is on the scene, and that means someone's body on the floor.
Cast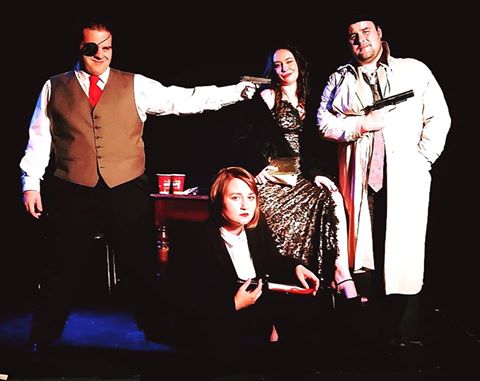 Declan Ryan
Kate Cosgrave
Charlotte Keating
Malcolm Bolton
Written & Directed by Johnny Shortall
Hardboiled had it's full debut with Symbiotic on the stage of the Pearse Centre over four evenings from the 5th – 8th October 2016.
Hard boiled toured the 2016 One Act circuit playing at:
Ballina: Ballina Arts Centre on 6th November 2016
Letterkenny: An Grianán Theatre on 12th November 2016