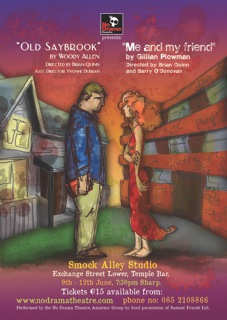 Production:
Old Saybroook
(Woody Allen) and
Me and my Friend
(Gillian Plowman)
Date: June 9
th
– 12
th
2010
Venue: Smock All Studio, Exchange St. Lower.
Old Saybrook:
Directed by Brian Quinn. Assistant Director: Vonnie Duran
Me and My Friend:
Directed by Brian Quinn and Barry O'Donovan
Gillian Plowman's black comedy
Me and my Friend
and Woody Allen's hilarious
Old Saybrook
united in an evening of soul-searching and tear-jerking laughter.
Directed by Brian Quinn and Barry O'Donovan,
Me and my Friend
followed four institutionalized psychiatric patients who found themselves on an early release program in two small council flats. In this black comedy, hopes and dreams collided with moments of psychosis and skeletons from the past.
Winding down from the thought-provoking first play, whilst rolling with the theme of complex relationships was Woody Allen's
Old Saybrook
. We met an accountant and his wife as they returned to the house in which they once lived. Unfortunate secrets were revealed and relationships rocked in this farcical yet bizarrely topical tale of infidelity, directed by Brian Quinn, assisted by Yvonne Durran.
CAST
(OLD SAYBROOK)
FIONA SLATTERY as
Sheila
DECLAN RYAN as
Norman
SARAH MALONEY as
Jenny
BRENDAN DALTON as
David
RUAIRI DE BURCA as
Mal
NOELLE O'REILLY as
Sandy
(ME AND MY FRIEND)
DAMIEN HOLMES as
Bunny
ALAN ROGERS as
Oz
ANGELA CARLIN as
Robin
GRAINNE O'SULLIVAN as
Julia
CREW
Production Managers
DARRAGH BYRNE and MARIA DILLON
Publicist
TRACEY DIAMOND
Stage Manager
DAVE McGOWAN
House Manager
JONATHON HUGHES
Props Coordinator
MARIA DILLON
Costume Coordinator
CATHERINE O'SULLIVAN
Make-up Coordinator
CHARLOTTE DUFFY
Lighting Designer
SHEILA DOOLEY
Sound Designer
NOEL MURPHY
Graphic Designer
PATRICK O'CALLAGHAN
Running Crew
HARRY WALSH, PAUL BONNER, SHANE ROBINSON and TOM MURPHY
House Staff
CAELINN LARGEY, DEARBHLA LAWLER, GRAINNE CURISTAN and KATE FEENEY
Hair and Make-up Crew
CAOIMHE COOKE, LISA TOWELL, LOUISE HALL
Box Office
NEIL CURRAN
Both plays were by kind permission of Samuel French Ltd.