Insomnia

We are delighted to invite you to Smock Alley's Scene + Heard 2018 festival! And in particular to Block 27.
Block 27 includes two shows, from two different groups.
No Drama Theatre – Insomnia
Drawn with Strings – Ambrosia's Oxfam.
These shows will be performing in Smock Alley's The Boys School on Thursday 23 February and Friday 24 February at 18:15!
Insomnia
Racing, thoughts, judging voices and something about Michael Douglas… It's the same story every night – but this time she has had enough.
Written by: Carmen Reichle
Directed by: Corinna Reichle
Produced by: Alexandra Stamati
Sound design: Ciarán O'Shea
Light design: Noel Cahill
Cast:
Erin Barclay
Megan Kelly
Tonya Swayne
https://www.facebook.com/events/416171822151573/

SpectrumSession
As part of the Smock Alley Theatre's festival of new work Scene + Heard, No Drama Theatre's official entry into this wonderful festival is a unique piece written by one of our own. Due to the content of the play they have requested that their identity remained undisclosed.
Synopsis: Fags, Skags and Sleeping Bags
Straight from your favourite music festival beside a miscellaneous body of water. No cans to spare, scarce tobacco and the music won't start again for several hours. Could the deranged ramblings of the irredeemably degenerate provide a path to salvation? Sure, all you know is you're not missing the headline act for the world.
Cast
BLACK: Alexandra Stamati
RED: Megan Kelly
WHITE: David O'Hagan
BLUE: Shane Robinson
GREEN: Fintan Ryan
Staged in Smock Alley Main Space on the 28th February to 2nd March 2017.
Hardboiled
The rain hammers down. Parts of the puzzle are starting to slot into place, but are the clues all they seem? The pieces are moving on the board, but is everyone playing the same game? Somebody is dead, stabbed through the heart. Somebody is running from the law, looking for a saviour. Somebody is out for revenge, relentlessly tracking their prey. Somebody doesn't see why this couldn't all wait till the morning. But Frank O'Hara is on the scene, and that means someone's body on the floor.
Cast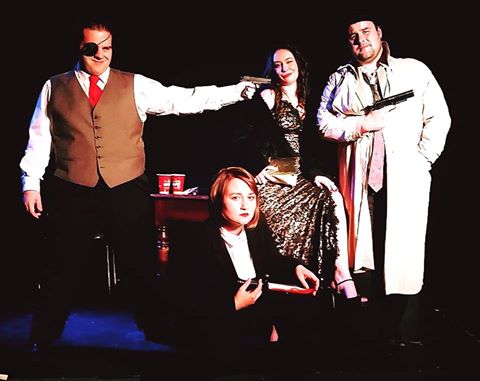 Declan Ryan
Kate Cosgrave
Charlotte Keating
Malcolm Bolton
Written & Directed by Johnny Shortall
Hardboiled had it's full debut with Symbiotic on the stage of the Pearse Centre over four evenings from the 5th – 8th October 2016.
Hard boiled toured the 2016 One Act circuit playing at:
Ballina: Ballina Arts Centre on 6th November 2016
Letterkenny: An Grianán Theatre on 12th November 2016
…
Symbiotic
"Symbiotic" is play unlike any other! Three actors and a writer combined their ideas and inspiration and crafted a sentient piece of theatre.
Three people, one room and a different out come each night..come and see, who knows what will happen…
Cast
Fintan Ryan
Izzy Hughes
Annette Burns
Written & Directed by Sarah Lynne, Assisted by John Fox
No Drama Theatre were super proud to present this play as part of a double bill of original No Drama forged theatre (with Hardboiled) in the Pearse Centre for four evenings from the 5th – 8th October 2016.
The Worst We Have To Fear
As part of the Smock Alley Theatre's festival of new work Scene + Heard, No Drama Theatre brought acclaimed poet Rosemarie Rowley's first play, "The Worst We Have To Fear" to the beautiful surrounding of the Smock Main Stage.
Synopsis: Poetry, history and prejudice clash as a romantic literary writer and those nearest to her come face to face with the human side of violence in the past, present and future.
Cast
ROSE: Shivvy Hickey
HUSSEIN: Nikhil Dubey
DEIRDRE: Annette Burns
MAY: Dorothy Godsil
BRóNA: Louise Dunne
SHANE: David Breen
DERMOT: Pat Deery
DAN BRESLIN: Greg Freegrove
JIM CONWAY: Declan Ryan
Crew
DIRECTOR: Johnny Shortall
ASSISTANT DIRECTOR: Malcolm Bolton
TECH: Cathal O'Donovan
Staged in Smock Alley Main Space on the 19th & 20th February 2016.
---
Gooseberry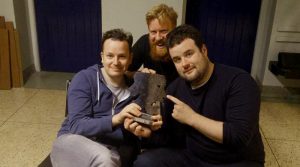 An award-winning One Act (1st place in Ballina One Act Festival!), Gooseberry is written by Hugh Cardiff and directed by Nikhil Dubey.
Featuring the talented cast of Dan McCormack, Declan Ryan and Paul McGrath, Gooseberry is the tale of three farmers in a small town, Ireland, are life-long mates and go to Bernie's pub every Friday. But when two of them fall for each other, the third has to come to terms with what his future holds.
Gooseberry premiered in a shortened form at the No Drama 2015 Summer Shindig before taking to the one act circuit. This was the first time that No Drama had competed in One Act festivals and the cast, crew and group were very honoured to place first in the confined category in the Ballina One Act Festival.
Gooseberry played in
Ballina: Ballina Arts Centre on 7th November 2015
Letterkenny: An Grianán Theatre on 13th November 2015
Ballymahon: Bog Lane Theatre on 14th November 2015
Goresbridge: Ionad Dara Theatre on 19th November 2015
Bray: Mermaid Arts Centre on 27th January 2016
Dublin: Harbour Playhouse on 29th January 2016.
---
Five Women
A piece of street theatre performed in conjunction with At Large Theatre Company as part of ActionAid Ireland's Safe Cities campaign. Five Women was written by Alan Flanagan and directed by Gráinne Curistan. It played over three days in May 2015 in some of Dublin's most iconic locations.
Cast
CAMOGIE: Sarah Lynne
BRONZER: Caoimhe Cooke
PLAID: Kate Cosgrave
PEARLS: Fiona Monahan
BANANAS: Lesley-Ann Reilly
Crew
PRODUCTION: Noel Cahill
ASSISTANT DIRECTOR: Renée Van De Schoor
DIRECTOR: Gráinne Curistan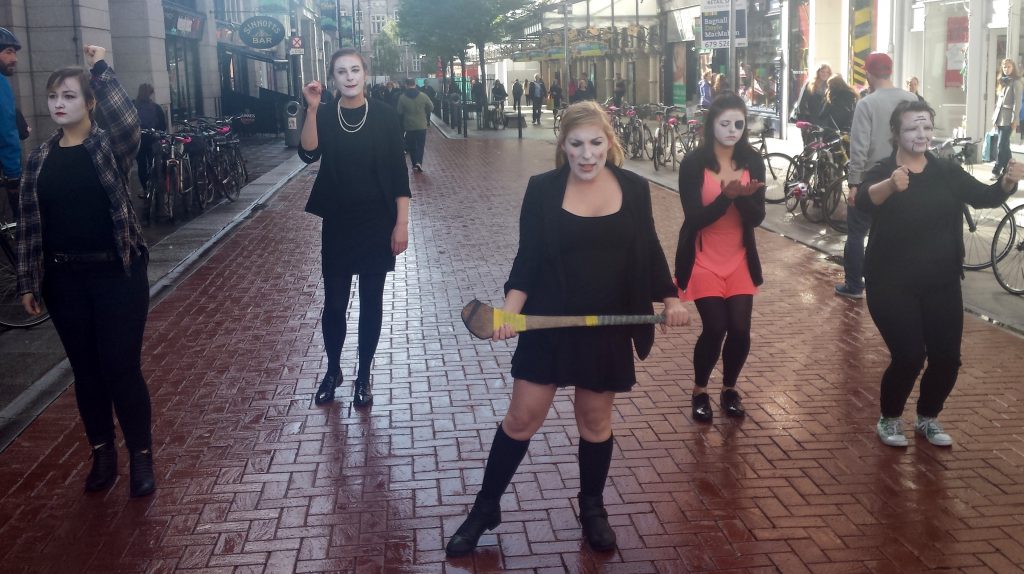 ---
Playgrounds
Dibble-Dabble
Niamh, Julia, Sarah, Tom, Jan n Podge r mates in college. 2nd year. Student Gaffe. Own-Brand-Cornflaks-4-Dinner. They'r goin out all de time, tryin too study, hopin 4 sum action, not realy knowin who they r or were they'r goin. BUT, they'r friends. B.E.S.T. Friends. Its student night in they'r college n they've met @ Niamh's for pre-lash b4 headin on to DeeDee's, the only place 2b on a Tuesday nite, 4 de usual.
Directed by Noel Cahill
Featuring Keith Cooper, Jennifer Heffernan, Kevin Henry, Rebecca Lyons, Jane Touhy & Hans Vennevertloo
November 2015 in Synge Street CBS
---
Passion's Journey Stills
Directed by Shane Robinson
Featuring Kate Cosgrave, Nikhil Dubey, Cathal O'Donovan & Irene Ridone
March 2015 in the Harbour Playhouse
---
The Playground
Directed by Shane Robinson
Featuring Caoimhe Cooke, Sarah Moloney, Pat Deery, Ruairi de Burca, Alannah Lawlor, Gary Mullen, Charmaine da Silva-Anderson, Yalda Shahidi
June 2014 in Synge Street CBS
---
Festivals
Heart Shaped Vinyl
In June 2011 No Drama theatre performed John Morton's Heart Shaped Vinyl in the Rose Garden at Body & Soul Festival.
Ever think there's a soundtrack to your life?
The track you went on your first date to……
The track you broke your heart to……
Heart Shaped Vinyl by John Morton plays its way through the 70's, 80's and 90's posing the question:
Do our lives direct these soundtracks….or do these soundtracks direct our lives???
Find out by meeting in The Rose Garden of Body & Soul Festival at 2PM on both Saturday 18th and Sunday 19th June.

Wearing the DIRECTOR's wellies is BRIAN QUINN
CAST:
SHANE ROBINSON
ELLEN HALLINEN
SASKIA CARROLL
ALAN ROGERS
DENISE ROCHE
SHIELA DOOLEY
NEIL CURRAN
DAMIEN HOLMES